AVVISO!

Si avvisano i gentili Clienti che il corriere non farà firmare la ricevuta al momento della consegna della merce come misura precauzionale in base alla nuova normativa per l'emergenza COVID-19. Cordiali saluti Profumeria Silvia.





For any information, contact us! info@profumeriasilvia.com tel. +39 0543/742581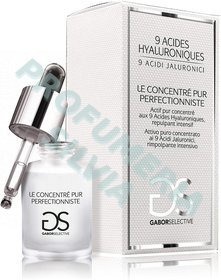 Price: € 72,00 € 90.00
(incl. tax)

Shipped in 0-2 Day
"This article may be subject to change at the discretion of the manufacturer's packaging. For more information about, please
contact us
"
Attivo puro concentrato ai 9 acidi ialuronici rimpolpante intensivo
Puro Attivo Concentrato formulato con 9 diversi pesi molecolari di Acido Ialuronico che intervengono sull'intera struttura cutanea donando massima idratazione e nuovo turgore. La sua intensiva azione filler, rimpolpante, protettiva ed emolliente, contrasta l'invecchiamento cutaneo. I piccoli segni d'espressione e di disidratazione vengono minimizzati e la pelle del viso appare piu' idratata, uniforme e levigata.

Applicare con un leggero massaggio mattina e sera sul viso e collo perfettamente detersi o come booster per potenziare l'azione della crema di trattamento Gaborselective.


Senza profumo.
Flacone 15ml
Related Products
Product Reviews
Be the first to review it!
Review this product
Comments requires the approval of a moderator, will be published shortly after posting