AVVISO!

Si avvisano i gentili Clienti che il corriere non farà firmare la ricevuta al momento della consegna della merce come misura precauzionale in base alla nuova normativa per l'emergenza COVID-19. Cordiali saluti Profumeria Silvia.





For any information, contact us! info@profumeriasilvia.com tel. +39 0543/742581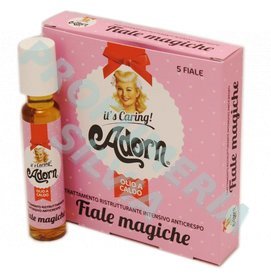 Price: € 5,00
(incl. tax)

Shipped in 0-2 Day
"This article may be subject to change at the discretion of the manufacturer's packaging. For more information about, please
contact us
"
Trattamento ristrutturante intensivo anticrespo
olio a caldo
C'era una volta... un olio fatato capace di sbaragliare il crespo e donare vita e vigore ai capelli. Un favola? Una magia? No, è Adorn Fiale Magiche, un vero e proprio elisir che, grazie al calore, penetra nei capelli rendendoli incredibilmente morbidi e facili da pettinare. Basta riscaldare la fiala alcuni minuti con l'acqua calda (puoi usare quella della doccia!) e distriuire il prodotto sui capelli umidi, lasciare agire per 2 minuti e risciaquare. Et voilà, la magia è fatta!


Scatola 5 fiale x 20ml
Related Products
Product Reviews
Be the first to review it!
Review this product
Comments requires the approval of a moderator, will be published shortly after posting