AVVISO!

Si avvisano i gentili Clienti che il corriere non farà firmare la ricevuta al momento della consegna della merce come misura precauzionale in base alla nuova normativa per l'emergenza COVID-19. Cordiali saluti Profumeria Silvia.





For any information, contact us! info@profumeriasilvia.com tel. +39 0543/742581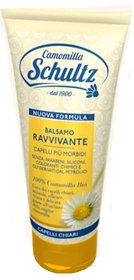 Price: € 3,50
(incl. tax)

Shipped in 0-2 Day
"This article may be subject to change at the discretion of the manufacturer's packaging. For more information about, please
contact us
"
Revitalizing Conditioner for colored hair
without parabens, silicones, dyes, chemicals and oils derived from petroleum
with 100 percent organic chamomile


Schultz reviving balm with chamomile organically grown, gives clear and shinning to Caelli iondi, reviving the natural reflexes. Its formula with natural conditioning of derfivazioni makes hair soft and silky, easy to comb and brilliant natural reflexes.

Apply the conditioner after shampoo to damp hair and massage gently. Leave on at least thirty seconds and then rinse. To effect a more 'nutritious, increase the shutter speed.
200ml tube
Automatic Translation
Related Products
Product Reviews
Be the first to review it!
Review this product
Comments requires the approval of a moderator, will be published shortly after posting