AVVISO!

Si avvisano i gentili Clienti che il corriere non farà firmare la ricevuta al momento della consegna della merce come misura precauzionale in base alla nuova normativa per l'emergenza COVID-19. Cordiali saluti Profumeria Silvia.





For any information, contact us! info@profumeriasilvia.com tel. +39 0543/742581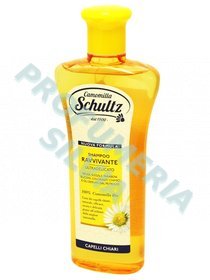 Price: € 3,50
(incl. tax)

Shipped in 0-2 Day
"This article may be subject to change at the discretion of the manufacturer's packaging. For more information about, please
contact us
"
Reviving Shampoo Ultrasoft
no: SLES / SLS, parabens, silicones, dyes, chemicals and oils derived from petroleum.

100 percent Camomile Bio
Reviving Shampoo Schultz gives shine to hair and blond, reviving the natural reflexes. The new formula more 'delicate, with only cleaning agents of plant origin, makes the shampoo revitalizes Schultz particularly suitable for frequent use, since' non-aggressive and will not weigh down hair. Using even every day, the hair is soft, light and bright with natural reflexes.
250ml bottle
Automatic Translation
Related Products
Product Reviews
Be the first to review it!
Review this product
Comments requires the approval of a moderator, will be published shortly after posting