AVVISO!

Si avvisano i gentili Clienti che il corriere non farà firmare la ricevuta al momento della consegna della merce come misura precauzionale in base alla nuova normativa per l'emergenza COVID-19. Cordiali saluti Profumeria Silvia.





For any information, contact us! info@profumeriasilvia.com tel. +39 0543/742581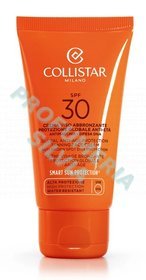 Price: € 25,80 € 33.00
(incl. tax)

Shipped in 0-2 Day
"This article may be subject to change at the discretion of the manufacturer's packaging. For more information about, please
contact us
"

A high-tech formula that helps to repair cell DNA, prevents the formation of sun spots and guarantees a magnificent tan. Contains the innovative Ultrasomes®, a complex of nanospheres which carry an active mix of enzymes that repairs damage caused by photoexposure. Formulated with a brand new technology, in spite of its extremely high SPF it has an ultra-soft texture and does not leave white traces. As soon as it is applied the cream is completely absorbed, smoothing and protecting the face. Day after day, it guarantees a glowing tan while preserving and reinforcing the vitality and youthfulness of the skin.
50 ml airless bottle
Product Reviews
Review this product
Comments requires the approval of a moderator, will be published shortly after posting