AVVISO!

Si avvisano i gentili Clienti che il corriere non farà firmare la ricevuta al momento della consegna della merce come misura precauzionale in base alla nuova normativa per l'emergenza COVID-19. Cordiali saluti Profumeria Silvia.





For any information, contact us! info@profumeriasilvia.com tel. +39 0543/742581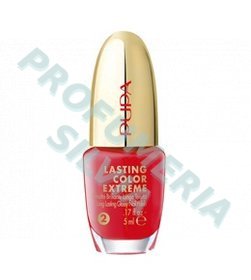 Price: € 7,20 € 9.00
(incl. tax)

Shipped in 0-2 Day
"This article may be subject to change at the discretion of the manufacturer's packaging. For more information about, please
contact us
"
Lasting Color Extreme
Colore e brillantezza a lunga tenuta
Lasting Color Extreme è uno smalto dal colore pieno e intenso sviluppato insieme a Extreme Primer e Extreme Top Coat: un sistema innovativo in 3 semplici step:
Primer
Colore
Top Coat
che assicura un finish ultra brillante nel tempo e una tenuta estrema (9 giorni durata media*).

La combinazione tra colore e top coat innesca un processo unico che inizia e si alimenta con la luce naturale: sull'unghia si crea così un film resistente che emula la tecnologia uv/led dello smalto semipermanente garantendo una tenuta estrema e un finish brillante nel tempo senza danneggiare le unghie.

L'applicatore "fan brush" - dal formato piatto a ventaglio con 300 setole dal taglio arrotondato - garantisce un'applicazione facile e scorrevole e un rilascio uniforme e controllato del colore.

Gli Oligomeri "presi in prestito" dalla tecnologia semipermanente, agiscono per una lunghissima durata. Il Mix di Polimeri di ultima generazione garantisce una brillantezza estrema e l'elevata concentrazione di Pigmenti regala un colore pieno e omogeneo.
Modo d'uso
Applicare il sistema su mani e unghie perfettamente pulite.

1° step: applicare uno strato di Extreme Primer per prolungare la tenuta di Lasting Color Extreme.
2° step: applicare 2 strati di Lasting Color Extreme, facendo asciugare perfettamente tra un'applicazione e l'altra.
3° step: applicare Extreme Top Coat su Lasting Color Extreme perfettamente asciutto su tutta l'unghia e sulla sua punta per sigillare il colore, aumentarne brillantezza e tenuta.

Asciugatura rapida: non necessita di lampade UV/LED.
Si rimuove con i levasmalti Pupa, senza impacco e senza limatura della superficie dell'unghia.


Non contiene: toluene, formaldeide, DBP (dibutyl phthalate) e canfora.
A basso rischio di allergie
Dermatologicamente testato
Paraben free
Made in Italy
5ml
Related Products
Product Reviews
Be the first to review it!
Review this product
Comments requires the approval of a moderator, will be published shortly after posting