AVVISO!

Si avvisano i gentili Clienti che il corriere non farà firmare la ricevuta al momento della consegna della merce come misura precauzionale in base alla nuova normativa per l'emergenza COVID-19. Cordiali saluti Profumeria Silvia.





For any information, contact us! info@profumeriasilvia.com tel. +39 0543/742581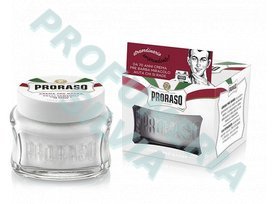 Price: € 4,20
(incl. tax)

Shipped in 0-2 Day
"This article may be subject to change at the discretion of the manufacturer's packaging. For more information about, please
contact us
"
Il prodotto iconico di Proraso: conserva da oltre 70 anni il suo processo produttivo e la sua formula. Ammorbidisce la barba idratandola e protegge la pelle, per una rasatura impeccabile. È arricchita con materie prime di origine naturale che la rendono consistente, concentrata, ricca e non untuosa.
Specifica per le pelli sensibili e arricchita con Estratto di Avena e Tè Verde, ammorbidisce la barba, difende la pelle dall'aggressione del rasoio e aiuta a prevenire gli arrossamenti.
Modo d'uso: Inumidisci il viso e applica la crema massaggiando con movimenti circolari e non risciacquare. Quindi procedi normalmente con l'applicazione del sapone o della schiuma da barba.
100ml
Related Products
Product Reviews
Be the first to review it!
Review this product
Comments requires the approval of a moderator, will be published shortly after posting