AVVISO!

Si avvisano i gentili Clienti che il corriere non farà firmare la ricevuta al momento della consegna della merce come misura precauzionale in base alla nuova normativa per l'emergenza COVID-19. Cordiali saluti Profumeria Silvia.





For any information, contact us! info@profumeriasilvia.com tel. +39 0543/742581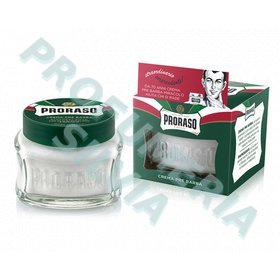 Price: € 4,20
(incl. tax)

Shipped in 0-2 Day
"This article may be subject to change at the discretion of the manufacturer's packaging. For more information about, please
contact us
"
Pre Shave Cream Refreshing and invigorating
with eucalyptus oil and menthol
The ideal preparation of the skin for a flawless shave. The traditional formula 'was enriched with natural raw materials that make it consistent, concentrated, rich and unctuous.
Eucalyptus Oil: has toning and purifying
Menthol: the property 'refreshing and revitalizing.

the daily ritual that becomes a time to take care of '.

PARABENS NO - NO SILICONE - NO OILS - BASE OF A PRODUCT OF NATURAL INGREDIENTS

Usage: It softens the beard, tones and protects the skin preparing it for a better shave. Moisten your face and massage with the Pre Shave Cream, then insaponatevi normally with soap or shaving cream.
100ml Jar
Automatic Translation
Related Products
Product Reviews
Be the first to review it!
Review this product
Comments requires the approval of a moderator, will be published shortly after posting