AVVISO!

Si avvisano i gentili Clienti che il corriere non farà firmare la ricevuta al momento della consegna della merce come misura precauzionale in base alla nuova normativa per l'emergenza COVID-19. Cordiali saluti Profumeria Silvia.





For any information, contact us! info@profumeriasilvia.com tel. +39 0543/742581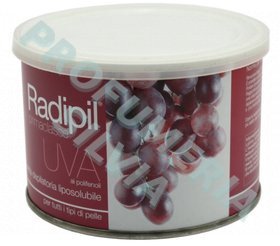 Price: € 9,00
(incl. tax)

Shipped in 0-2 Day
"This article may be subject to change at the discretion of the manufacturer's packaging. For more information about, please
contact us
"
Wax depilation cold lipo all 'Beds
Grape: wax with properties' anti-inflammatory and protective properties of the capillaries, suitable for sensitive skins as protective, firming and moisturizing
In cosmetics polyphenols extracted from grapes and red vine leaves are used as natural antioxidants, inhibit the formation of free radicals and protect skin from external aggression. The blood red of autumn leaves indicate the richness of tannins, with property 'astringent. Polyphenols maintain the elasticity 'of the skin and counteract the dehydration.
Instructions for use
Remove the cap-off before placing the container into WAX HEATER. It 'also possible to heat the can in a water bath. Bring the product to complete the merger. Reached the correct temperature profile, with a spatula spread a thin layer of wax on the part to remove the hair following the hair growth. Apply a strip of paper in tnt taking care to make it stick well, pressing and tapping. Proceed tear precise and raking wrong way. After waxing apply an oil-based fluid to remove residual wax and make the skin soft.


Vasp 400ml

Automatic Translation
Product Reviews
Review this product
Comments requires the approval of a moderator, will be published shortly after posting