AVVISO!

Si avvisano i gentili Clienti che il corriere non farà firmare la ricevuta al momento della consegna della merce come misura precauzionale in base alla nuova normativa per l'emergenza COVID-19. Cordiali saluti Profumeria Silvia.





For any information, contact us! info@profumeriasilvia.com tel. +39 0543/742581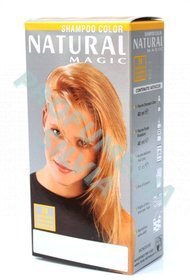 Price: € 8,30
(incl. tax)

Shipped in 0-2 Day
"This article may be subject to change at the discretion of the manufacturer's packaging. For more information about, please
contact us
"

The result of color
Brilliant: the color is alive, full of reflections for a result and intense light.
Long life: Natural Magic associates a result of long-term (6 -8 weeks).
Coverage: Covers white hair gently.
Fade the color I keep true shampoo after shampoo without losing reflexes and brilliance.

Compared hair
Ammonia-free: thanks to innovative fornulazione, Natural Magic is pleasantly scented and makes for a lasting result respecting the nature of the hair.
Protective formula: a protein that nutorno oats and restructure the hair fibers and apricot extract protects hair from drying out and aggerssioni weathering.

Ease of Use
Few gestures: a 'quick and easy application and after only 30 minutes of installation will give the hair shine and brightness throughout their length
Content:
1 color 40ml Shampoo Bottle
1 bottle Fluid detector
1 bag balm post color
1 pair of gloves
1 sheet of isruzioni for use
1 Cape-saving habits
AMMONIA FREE
The colors may appear different from the reality on the video
Automatic Translation
Product Reviews
Review this product
Comments requires the approval of a moderator, will be published shortly after posting