AVVISO!

Si avvisano i gentili Clienti che il corriere non farà firmare la ricevuta al momento della consegna della merce come misura precauzionale in base alla nuova normativa per l'emergenza COVID-19. Cordiali saluti Profumeria Silvia.





For any information, contact us! info@profumeriasilvia.com tel. +39 0543/742581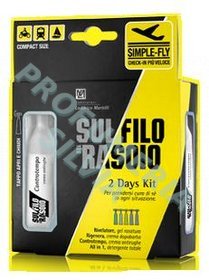 Price: € 6,50
(incl. tax)

Shipped in 0-2 Day
"This article may be subject to change at the discretion of the manufacturer's packaging. For more information about, please
contact us
"
Weekly pack: contains 5 tubes of 10ml each closable.
Four innovative products for men that look forward. Performance targeted formulations evuoute comfortable and enriched ocn defensil: an exclusive plant complex active in protecting the skin and strengthen its natural defenses. A new way to take care of s
TRANSPARENT GEL SHAVE Shaving ultrascorrevole visible.
A new way to shave with a gel traparente, non-foaming and pH neutral. With Aloe Vera Defensil restructuring superlenitivo lubricants for a shave ultrascorrevole vitamin complex balancing skin.
2 x 10ml
AFTERSHAVE CREAM PROTECTIVE hydrated and elastic skin.
A soothing cream with high protection and to remain vigilant even after shaving. With Grape Seed Oil Defensil restructuring antioxidant vitamin complex balancing skin.
1 x 10ml
SOOTHING AFTERSHAVE BALM Immediate relief.
Early intervention against the burning of the razor. With Aloe Vera Defensil restructuring superlentivo Alcohol extra freshness vitamin complex balancing skin.
1 x 10ml
ANTI-WRINKLE CREAM correct wrinkles, smooth skin.
A wrinkle cream that restores and renews the skin. With hyaluronic acid firming extract Caffe 'revitalizing Ginseng Extract Vitamin E anti-fatigue against external aggression.
1 x 10ml
Automatic Translation
Related Products
Product Reviews
Be the first to review it!
Review this product
Comments requires the approval of a moderator, will be published shortly after posting