AVVISO!

Si avvisano i gentili Clienti che il corriere non farà firmare la ricevuta al momento della consegna della merce come misura precauzionale in base alla nuova normativa per l'emergenza COVID-19. Cordiali saluti Profumeria Silvia.





For any information, contact us! info@profumeriasilvia.com tel. +39 0543/742581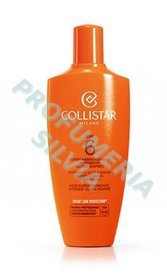 Price: € 26,50 € 34.00
(incl. tax)

Shipped in 0-2 Day
"This article may be subject to change at the discretion of the manufacturer's packaging. For more information about, please
contact us
"
Unique in its kind, this revolutionary sun product makes it possible to obtain a magnificent tan in a very short time and in any season, even when the sun is less intense. It is based on the tanning synergy of Unipertan, which accelerates and intensifies the skin pigmentation process, combined with special substances that increase its effectiveness. Rich in vitamin E and a mix of valuable moisturizing, nourishing and elasticizing substances, it prevents the skin from ageing and keeps it fresh, soft and smooth even after long exposure to the sun. A true tan activator, this is the ideal sun product for those who wish to get the most out of even the weakest sun and have a radiant golden tan all year round. Suitable both for the face and the body, it is also recommended for intensifying the tanning effect of UV-A lamps.
'special weekends' and less intense sun
200 ml bottle
Product Reviews
Review this product
Comments requires the approval of a moderator, will be published shortly after posting