For any information, contact us! info@profumeriasilvia.com tel. +39 0543/742581
Ph:
+39 0543 742581
Closed Tuesday Afternoon and Thursday Afternoon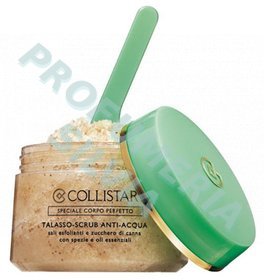 Price: € 37,90 € 48.50
(incl. tax)

Shipped in 0-2 Day
"This article may be subject to change at the discretion of the manufacturer's packaging. For more information about, please
contact us
"
A true beauty-farm treatment with fivefold effectiveness: • exfoliating and moisturizing
• draining • slimming • nourishing • energizing. The synergic action of sea salts, cane sugar, essential oils and spices ensure all the pleasure and benefits of thalassotherapy and aromatherapy, while a mix of phyto-extracts with draining and lipolytic properties performs a powerful slimming and anti-water retention action. This is further boosted by the 'sauna' effect of the product. The result is a skin that is instantly purer, softer and more elastic, a body that is smoother and more toned, decreased bulging and swelling and an immediate wonderful sensation of lightness and well-being, just like after a complete hammam treatment. The silhouette becomes slimmer, more toned and irresistible.
How to use
To get the most out of the benefits of this prodigious treatment the salts should be massaged onto either dry or damp skin (depending on how intense a scrub is desired) with circular movements for a few minutes, concentrating on bulges and the areas most in need of draining. This massage-scrub removes dead cells and thick skin which slow down cell turnover and, at the same time, creates a heat effect that favours the draining and slimming actions of the product. The scrub is then either rinsed off in the bath or, alternatively, with the shower spray, first with hot water and then with cold for a beneficial 'Scotch hose' treatment.
700 g maxi jar
Related Products
Product Reviews
Be the first to review it!
Review this product
Comments requires the approval of a moderator, will be published shortly after posting