For any information, contact us! info@profumeriasilvia.com tel. +39 0543/742581
Ph:
+39 0543 742581
Closed Tuesday Afternoon and Thursday Afternoon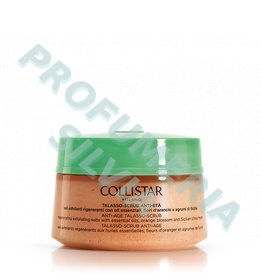 Price: € 37,90 € 48.50
(incl. tax)

Shipped in 0-2 Day
"This article may be subject to change at the discretion of the manufacturer's packaging. For more information about, please
contact us
"
Thalasso Scrub-creator of the first and undisputed leader in Perfumery in body scrubs, Collistar has formulated an innovative specialty 'that combines the benefits of thalassotherapy those dell'agrumoterapia. Result of extensive researches, SPA-Scrub Anti-Age 'is a real rejuvenating treatment that helps fight skin aging and makes the skin of the body at once bright, supple and ultra-smooth.
The renewing action and exfoliating sea salts. A unique blend of over 90 kinds of sea salt frees the skin surface of dead cells, smoothes the sculls and ccelera the physiological turn-over skin.
The efficcia free radical scavengers, illuminating and brightening of Sicilian citrus fruits. Rich in alpha-hydroxy acids, flavonoids and vitamin C, oranges and lemons combat skin aging and Formazine spots.
The power of anti-aging 'of the precious L22 Complex. Composed of a mixture of oils of jojoba and macadamia nuts, soy phytosterols, squalene, olive oil and vitamin E, and 'cos
The effects of revitalizing aromatherapy and essential oils of lemon, orange, mandarin, lime and orange flowers. Particularly active, the citrus essential oils act on the skin enlivening and encouraging the channeling of functional ingredients. Suitable for all skin types, is valuable: first of specialized treatments, 'cause makes the skin tissues more' receptive to the active ingredients, before the sun and self-tanning 'cause guarantees a color more' uniform and long-lasting, after tanning 'cause it eliminates the unsightly effects of skin peeling.
Automatic Translation
Related Products
Product Reviews
Be the first to review it!
Review this product
Comments requires the approval of a moderator, will be published shortly after posting