For any information, contact us! info@profumeriasilvia.com tel. +39 0543/742581
Ph:
+39 0543 742581
Closed Tuesday Afternoon and Thursday Afternoon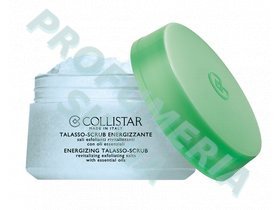 Price: € 37,90 € 48.50
(incl. tax)

Shipped in 0-2 Day
"This article may be subject to change at the discretion of the manufacturer's packaging. For more information about, please
contact us
"
Unique and inimitable, this is the most widely sold scrub in perfumeries°. Much more than a simple exfoliating product, it represents a powerful revitalizing and restorative treatment for the skin of the body, using the beneficial properties of the sea (thalassotherapy) and those of carefully-selected essential oils (aromatherapy) to increase the effects of the exfoliation. The product owes its effectiveness to the synergic action of an exclusive mix of 90 types of sea salt with varying granulometries, expertly combined with a rich blend of vegetable oils and pure aromatic essential oils, which act both on the skin and through the sense of smell.
This valuable treatment guarantees four important results for the beauty of the body:
• exfoliating, for instantly purer and smoother skin - The scrub, made particularly effective by the well-calibrated granulometry of sea salt, renews the skin, freeing it from dead cells, impurities and hard skin which hinder respiration and slow down the physiological cell turnover.
• revitalizing, for more toned and vital skin - The iono-osmotic action of sea salt, rich in oligoelements and mineral salts, and the stimulating action of essential oils are heightened by the massage-scrub which reactivates surface microcirculation.
• ultra-moisturizing, for silky-soft and supple skin - The mix of vegetable oils supplies the skin tissues with a high intake of moisturizing, nourishing and elasticizing principles.
• restoring, for an immediate sensation of energy and well-being – Through the sense of smell the essential oils of orange, mint and rosemary have a positive effect on the psyche.

Particularly beneficial when used • before specialised treatments (anticellulite, anti-stretch mark, firming products) as it makes the skin more receptive to the active principles • before tanning and the application of self-tans as it guarantees a brighter, more even and longer-lasting colour • after tanning as it favours the rapid elimination of the unsightly effects of peeling.

FUNCTIONS OF ACTIVE INGREDIENTS
*Sea salts - exfoliating, revitalizing, draining action. *Oils of avocado, macadamia, sweet almond, kukui and soybean – moisturizing, nourishing, elasticizing, emollient action. *Essential oils of orange, mint and rosemary – stimulating, revitalizing, toning, restoring action.
Revitalizing exfoliating salts with essential oils
700 g maxi jar
Related Products
Product Reviews
Be the first to review it!
Review this product
Comments requires the approval of a moderator, will be published shortly after posting