AVVISO!

Si avvisano i gentili Clienti che il corriere non farà firmare la ricevuta al momento della consegna della merce come misura precauzionale in base alla nuova normativa per l'emergenza COVID-19. Cordiali saluti Profumeria Silvia.





For any information, contact us! info@profumeriasilvia.com tel. +39 0543/742581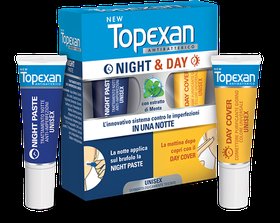 Price: € 10,00 € 13.90
(incl. tax)

Shipped in 0-2 Day
"This article may be subject to change at the discretion of the manufacturer's packaging. For more information about, please
contact us
"
The innovative system against imperfections in one night - Unisex
The night will apply on the pimple PASTA NIGHT.
The next morning is covered with DAY COVER.
PASTA NIGHT: night care anti-imperfection.
DAY COVER: concealer purifying day.
PASTA NIGHT
TREATMENT NIGHT ANTI-IMPERFECTION

Pasta texture similar to toothpaste suitable for facial skin and specific to treat pimples overnight.
It contains a mix of powders Minerals marked effect with sebum-absorbing and refreshing mint extract and soothing.

Apply a small amount 'of product on the pimple before going to sleep.
In the morning, wash your face as usual.

It CONTAINS:
Mix Powders Minerals
Extract Mint
Salicylic acid




DAY COVER
CORRECTION DAY CLEANSING

Corrector purifying cream colored universal suitable for use unisex and high comprenza.
It 'merges' with the color of the skin covering imperfections naturally.

Continue the purifying completing the treatment started the night.
It 'also suitable for the skin of the guys' cause it contains innovative pigments that can adapt to any complexion, even with men.


Apply day locally on the pimple and pat to absorb it and mix the skin.
It dries quickly.
It can 'be applied alone, under or over make-up even more' times a day.

It CONTAINS:
Special Pigments
Extract Mint
Salicylic acid


The kit contains 1 tube 7ml PASTA NIGHT and 1 tube 7ml DAY COVER
Automatic Translation
Related Products
Product Reviews
Be the first to review it!
Review this product
Comments requires the approval of a moderator, will be published shortly after posting