AVVISO!

Si avvisano i gentili Clienti che il corriere non farà firmare la ricevuta al momento della consegna della merce come misura precauzionale in base alla nuova normativa per l'emergenza COVID-19. Cordiali saluti Profumeria Silvia.





For any information, contact us! info@profumeriasilvia.com tel. +39 0543/742581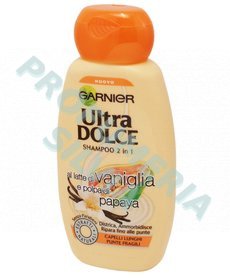 Price: € 2,60
(incl. tax)

Shipped in 0-2 Day
"This article may be subject to change at the discretion of the manufacturer's packaging. For more information about, please
contact us
"
A true recipe that repairs detangling long hair to the tips often fragile, the new 2in1 Shampoo Ultra Dolce Garnier combines Vanilla, known for its grand edelicatezza and its delicious aroma, the pulp of Papaya, known for its virtues 'revitalizing, in a formula that does not weigh down your hair.
Result: perfectly disentangled throughout their length, and repaired to the tips, your hair is the most 'beautiful and extremely soft to the touch. Their fresh and delicious accompanies you throughout the day.
Parabens
Long hair, brittle tips
250ml bottle
Automatic Translation
Related Products
Product Reviews
Be the first to review it!
Review this product
Comments requires the approval of a moderator, will be published shortly after posting