AVVISO!

Si avvisano i gentili Clienti che il corriere non farà firmare la ricevuta al momento della consegna della merce come misura precauzionale in base alla nuova normativa per l'emergenza COVID-19. Cordiali saluti Profumeria Silvia.





For any information, contact us! info@profumeriasilvia.com tel. +39 0543/742581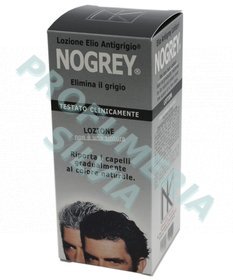 Price: € 8,00
(incl. tax)

Shipped in 0-2 Day
"This article may be subject to change at the discretion of the manufacturer's packaging. For more information about, please
contact us
"
Lotion that eliminates gray hair gradually reduced to the natural color - it is a tincture. For each color of hair.

How to use:
Wash and dry your hair
Apply a few drops of NOGREY at the root of the hair to be treated;'s used to distribute the lotion, a comb from the root to the tip of the hat.
Allow to dry
Repeat application once a day until the hair does not reach the pitch 'desired (usually 15-20 days)
To keep the result is sufficient to use NOGREY once or twice a week.
200ml bottle
Automatic Translation
Related Products
Product Reviews
Be the first to review it!
Review this product
Comments requires the approval of a moderator, will be published shortly after posting