AVVISO!

Si avvisano i gentili Clienti che il corriere non farà firmare la ricevuta al momento della consegna della merce come misura precauzionale in base alla nuova normativa per l'emergenza COVID-19. Cordiali saluti Profumeria Silvia.





For any information, contact us! info@profumeriasilvia.com tel. +39 0543/742581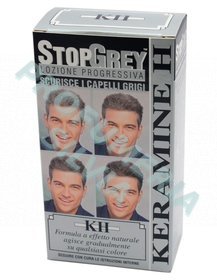 Price: € 4,50
(incl. tax)

Shipped in 0-2 Day
"This article may be subject to change at the discretion of the manufacturer's packaging. For more information about, please
contact us
"
Lotion that gradually darken gray hair - make a natural effect that works on any color gradually. No sudden change!
Day after day StopGrey replaces the melanin pigment that gives hair gradually uncolore natural. You can solve the problem from the outset gray hair day by choosing to apply only StopGrey sprouting the first gray hair or let the gray at the temples and apply it on other areas. You can choose to stop the application at any time to leave a slight gray or continue until its complete disappearance.
It 's a clear lotion already' ready to use, easy to use, just apply it every morning like any hair tonic. After 3-4 weeks you will get the tone 'you want.
Simply apply the lotion to keep 2 or 3 times a week. Do not scrub the skin.
125ml bottle
Automatic Translation
Related Products
Product Reviews
Be the first to review it!
Review this product
Comments requires the approval of a moderator, will be published shortly after posting